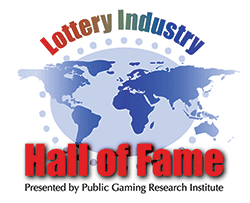 WATCH the Class of 2022 Lottery Industry Hall of Fame Induction Ceremonies
CLICK HERE TO WATCH THE INDUCTION CEREMONY OF DAVID BARDEN and DREW SVITKO at the Sheraton Hotel in New York City, Wednesday, August 31, 2022
CLICK HERE TO WATCH THE INDUCTION CEREMONY OF ROMANA GIRANDON and LUCA ESPOSITO at the World Lottery Association (WLS) at the Vancouver Convention Center, Tuesday, October 18, 2022. 
David Barden 
President & Chief Executive Officer, New Mexico Lottery; President, Multi-State Lottery Association (MUSL) ​ 
Luca Esposito
Executive Director, World Lottery Association; General Secretary of the Global Lottery Monitoring System (GLMS).  
Romana and Luca were honored​ Tuesday, 18 October 2022 at 17:00 - 17:45; West Level 3 - Meeting Room 301 Vancouver Convention Centre (VCC) West, Vancouver Canada
Romana Girandon
President & Chief Executive Officer, Loterija Slovenije (Slovenian National Lottery); 2nd Vice President of European Lotteries

Drew Svitko 
Executive Director, Pennsylvania Lottery; Chair of the Powerball Group
David and Drew were honored at 4:30 pm Wednesday August 31, 2022 - Eastern Time U.S. at the ​Sheraton Time Square Hotel, New York.  
Please click here to read their bios.